Guess what..er um...Guess who?
....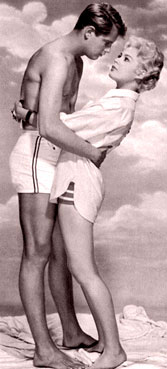 Got your attention Huh?
nope..
that isn't me..
altho it could well have been..
eons ago..
back when I dreamed wild teenage dreams..
of a handsome Troy Donahue..
he was my dream image for my prince charming..
oh yes..
back in my day,
marriage was the dream destination for girls..
ingrained from birth,
the familiar refrain..
almost a prayer ..
like saying the Rosary..
"when I GROW up and get married.."
and so it went..
I will marry_________,
we will have a beautiful wedding..
my bridesmaids etc, etc..
we will honeymoon at_____,
and then we will return home..
HE will go to the office to work,
and I will stay home,
in my rose covered cottage,
behind the white picket fence..
and we will have beautiful babies..
and we will live happily ever after..
BUT.....
somewhere along the way..
the fairy tale ends..
reality sets in..
and life happens..
such is the case with me of late..
I am facing demons of my own..
I recently turned 65..
now have my Medicare card..
and as much as I enjoy going to work..
performing a much loved job..
I remain on the list of UNEMPLOYED...
I have been facing AGE DISCRIMINATION..
no one would have believed eons ago ..
the strides that would be made in the workplace for women...
*women would become a vital part of the workforce..
*with passage of the Equal Rights Amendment..
that equal pay would prevail for both sexes performing the same job..
But now that I have reached the status of "SENIOR"..
my knowledge..
my credibility..
my work ethic..
my dependability..
is tossed aside in favor of
younger..
inexperienced..
CHEAPER..
applicants..
Try as I may to be positive..
I find myself more and more negative..
and depressed..
and as I was also taught..
If I could not say something positive..
then say nothing at all..
and that is the reason for my silence of late..
am in serious need of rejuvenation..
of my body and soul..
NO!
absolutely not!
I AM NOT TAKING A BREAK FROM BLOGGING!!!
I love this creation of mine..
but my posts will be as frequent..
or infrequently as my soul dictates..
right this minute..
my poor achy body is battling a nasty sinus infection..
and I'm feeling pretty miserable..
but thanks to each and every one of you followers..
you all make it worthwhile and FUN!!!
** and ps..no I did not marry a tall blue eyed blonde..
instead I married a man just like my daddy..
tall, dark and handsome..
but not quite as smart!!
Lucky me!!!
together we created,
and had our wonderful son Keith..
who got the best of the both of us!
warmest hugs to all of you!
laughing smiles too!!
Loui♥