Just saw this!
All I can say is It's about time!!!
what is YOUR valued opinion???
Girls given equal rights to British throne under law changes
updated 8:44 AM EST, Fri October 28, 2011
STORY HIGHLIGHTS
NEW: The law changes would apply to any children of Prince William and Catherine
Under the changes, a first-born girl would take the throne ahead of a younger brother
The law changes must still be approved by individual Commonwealth governments
London (CNN) -- Sons and daughters of British monarchs will have an equal right to the throne under changes to the United Kingdom's succession laws agreed to Friday, British Prime Minister David Cameron said.
The leaders of the 16 Commonwealth countries which have the queen as head of state approved the changes unanimously at a Commonwealth of Nations summit in Australia, he said. The individual governments of those 16 countries must still agree the law changes for them to take effect.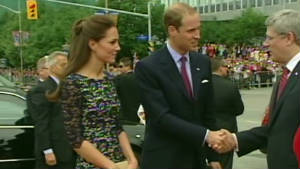 The constitutional changes would mean a first-born girl has precedence over a younger brother. They also mean that a future British monarch would be allowed to marry a Catholic.
The laws would apply to any future children of Prince William and Catherine, the Duchess of Cambridge, who married this year.
Speaking alongside his Australian counterpart Julia Gillard in Perth, Cameron described Friday's agreement by the heads of government of the 16 nations as "something of a historic moment."
Attitudes have changed fundamentally over the centuries, he said in a televised address, and outdated rules should evolve with them.
"The idea that a younger son should become monarch instead of an elder daughter simply because he is a man, or that a future monarch can marry someone of any faith except a Catholic -- this way of thinking is at odds with the modern countries that we have become," he said.
"Put simply, if the Duke and Duchess of Cambridge were to have a little girl, that girl would one day be our queen. "
Cardinal Keith O'Brien, leader of the Catholic Church in Scotland, said he welcomed the plans to reform the Act of Settlement.
"I am pleased to note that the process of change, which I hope will lead to repeal of the Act has started and I look forward to studying the detail of the proposed reforms and their implications in due course," he said in a statement.
Queen Elizabeth is in Australia for the three-day Commonwealth Heads of Government Meeting.
The Commonwealth is an association of 54 nations with ties to the United Kingdom. Only 16 share the queen as head of state.
Now back to our our regularly scheduled Blogging..well..in a few ..be right back after dental appointment.. Duh!
CNN's James Partington contributed to this report.