Growing up in the South,a garden was a necessity.
We each had chores to do in the seasonal garden.
We hoed the weeds,watered and fertilized as necessary,and when ripe, we picked and harvested..
Even today I hate to shell peas and butterbeans...
The fruits of our labors were rewarded with delicious, fresh vegetables which graced our daily meals or were processed either by canning or freezing.
So my love affair with vegetables developed early in life..
and continues to this day.
Of the many choices of C named vegetables,
I've chosen Cabbage,I have always enjoyed,.
either raw or cooked as cabbage rolls,
in soups or simply steamed.
(I prefer mine crisp tender, not mushy!)
The benefits of Cabbage are many, all healthful.
It is rich in Vitamins A, B1,B2,B6,C,E, and K ..
plus provides dietary roughage,
as well as other nutritional benefits to promote good health.
There are many varieties of Cabbage..red, Chinese etc,,but
my favorite is the familiar simple, green hard head cabbage.
Following are several of my favorite recipes:
Cole slaw
Cabbage,shredded and chopped
+ Chopped green onions
+ carrot,shredded
+ Mayo (the REAL stuff)
+ dash of Vinegar
+ 2 Tablespoons Sugar
+ Pepper to taste
Mix Thoroughly
Voila!!
another variation:
Cabbage, roughly chopped
Green onions, chopped
Vidalia onions ,Chopped
Mayo (the real stuff)
Chopped vine ripe tomato
salt and pepper to taste
Mix thoroughly
Serve and Enjoy!
Excellent accompaniment for;
Fish and grilled foods
To this basic recipe,other fruits and vegetables
can be added. (Omit the tomato.)
New England Boiled Dinner
Cabbage head, quartered
Carrots , 4 cut in sections
Onions, 6 small whole
Potatoes, 5-6 red or white, chunks
Kielbasa /Sausage, 1link, cut in sections
Combine all ingredients in dutch oven
cover with water
simmer until veggies crisp-tender
sprinkle with pepper sauce/vinegar
Serve with Southern cornbread
My Southern cornbread..
1 1/2 cups self rising cornmeal mix
1/2 cup self rising flour
1 cup buttermilk, room temperature
1 egg, room temperature, beaten
3-4 Tablespoons REAL Mayo
preheat Oven at 425 degrees
preheat small, black cast iron skillet
which has been sprayed with Pam non stick spray
mix all ingredients thoroughly.
make sure mixture is not too dry or too soupy.
Pour into skillet,bake at 425 for 25 minutes..
serve with butter and any of the above Cabbage Recipes.
Of course, the drink of choice for this Southern girl would be:
Sweet Iced tea!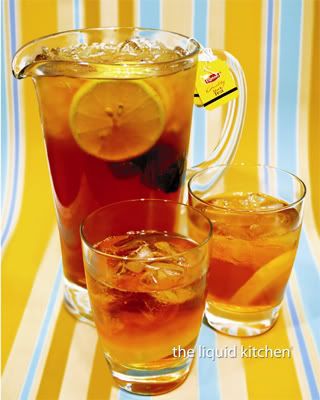 Dessert optional..
let's join Jen at Unglazed to see what else is cooking!